More Than Just Code podcast - iOS and Swift development, news and advice
About
About More Than Just Code podcast - iOS and Swift development, news and advice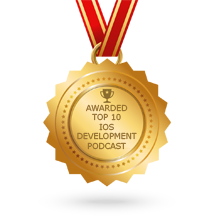 More Than Just Code podcast is the perfect source for iOS and Swift developers looking to stay up-to-date on the latest news and trends in the field. With helpful advice from experienced developers, it's the perfect way to stay informed and inspired.
Each week, Jaime Lopez, Mark Rubin (sometimes Greg Heo, and Tammy Coron ) and myself, Tim Mitra, will convene from across the continent to discuss iOS and Mac development. We discuss current issues to find out what developers are talking about, what their apps are about, what they are using to create their apps and what advice they have for other developers (or those looking to become one). We also have news, notes and tech tips for developers.
Listen or Subscribe on FeedBurner
Listen or Subscribe on Stitcher
If you like this podcast, please write a positive review on iTunes. It really helps. Thanks.
Sponsor the More Than Just Code podcast on Patreon.com
Show Theme Music
Space Jazz – Dmitry Rodionov, Melody Loops
Join our mailing list for updates.
We'd like to thank our Patreon sponsors: Wade Tregaskis, Jeff, Alcia Ramirez. We're also greatful to our previous sponsors: Shawn Marston, Jeffery Fulton, Adam Beardslee, Felix Huang, Neale Van Fleet, Ryan Rapp, Jerry Banfield, Just Write Code, The Catterwalls, Aaron Vince, Bill Smith, Emre SARI, Adam Armstrong
More Than Just Code podcast - iOS and Swift development, news and advice on social media